We are happy today to have on our blog an interview with the talented Chinese artist
Yangyang Pan
who lives and works in Canada. Enjoy her joyful and colorful abstracts.
Please tell us about yourself. How you decided to move to Canada?
My name is Yangyang Pan. I graduated from Sichuan Fine Art Institute, which is one of the top 8 art schools in China. I received BFA and MFA and after that I became a permanent instructor in this school. My life was in a small circle at that time and I really wanted to explore the western art world. After I married my husband who was working in the U.S., I made the decision to follow him and moved to Canada in 2006. And now I am happy to say I am fulfilling my artist's dream.
What inspires you?
Inspiration comes from everything. It can be the small but elegant garden of the neighbour or an image from the web. I like to travel. The fresh air of a new place always inspires me. I enjoy using my iphone to record the things which inspire me in my daily life. And the music, I always paint with music which makes me happy.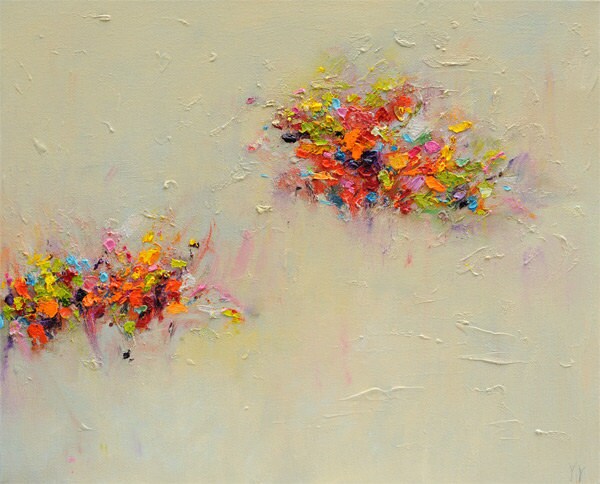 Abstract Landscape 5

How you would describe your style? Your favorite subject to paint or draw?
I am pleased to be an abstract expressionist. But my paintings are anything about anger or depression. They always express a happy mood. One of my representing galleries called my abstracts as Lyric abstracts. I think that is closer to my style. My favourite subject is all beauty of things natural and their exquisite colors.
What you are working on?